Today I'm delighted to be hosting a Q&A with Susan Blumberg-Kason as part of her Blog Tour for her memoir Good Chinese Wife.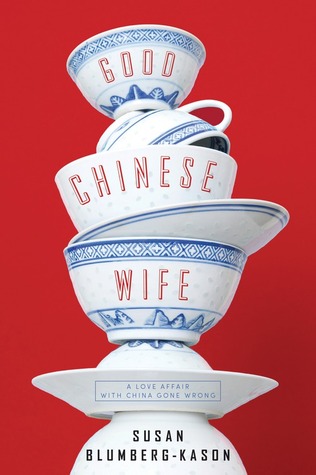 Book Summary (from Goodreads)

A stunning memoir of an intercultural marriage gone wrong
When Susan, a shy Midwesterner in love with Chinese culture, started graduate school in Hong Kong, she quickly fell for Cai, the Chinese man of her dreams. As they exchanged vows, Susan thought she'd stumbled into an exotic fairy tale, until she realized Cai–and his culture–where not what she thought.
In her riveting memoir, Susan recounts her struggle to be the perfect traditional "Chinese" wife to her increasingly controlling and abusive husband. With keen insight and heart-wrenching candor, she confronts the hopes and hazards of intercultural marriage, including dismissing her own values and needs to save her relationship and protect her newborn son, Jake. But when Cai threatens to take Jake back to China for good, Susan must find the courage to stand up for herself, her son, and her future.
Moving between rural China and the bustling cities of Hong Kong and San Francisco, Good Chinese Wife is an eye-opening look at marriage and family in contemporary China and America and an inspiring testament to the resilience of a mother's love–across any border.
Author Q&A

Q. What made you decide to share your very personal story with the world and how does your family feel about it?
A. I wanted to write this book because I was constantly searching for one like it during my first marriage. A friend recently asked if I would have done anything differently if there had been such a book when I was married to Cai, and it's hard to say what I would have done. But at the very least I would've known I wasn't alone. Apart from my brother, I didn't share any of the book with my family until it came out. My mother was upset because the book brought back old memories that she hadn't thought about in years. My grandmother and Uncle Budgie (a supporting character in the book) were among the first family members to read it and they claimed they really enjoyed it. My mother-in-law is reading it now and I think it's really been an eye-opener for her. My son Jake hasn't read it yet, but it's there for him when he's ready. My husband Tom hasn't read it yet, but talks about it all the time at work and is very proud of me for publishing it after having worked on it for six years.
Q. If you had to go back and do it all again, is there anything you would do differently?
A. In all relationships, it's best to just be yourself and to do that from the start. So I would have stood up for myself in the beginning. Blindly going along with Cai from the start was a bad habit that was very difficult to break, as I show in the book.
Q. Did you and Cai ever spend the money Cai got from Japanese Father?
A. It was part of our marital assets, so we split that money in half when we divorced. It allowed me to make a down payment on a condo where Jake and I would live for six years. And it allowed Cai to buy an apartment and a car in China when he moved back there.
Q. After everything you went through with Cai, how did you find the faith and trust to give it a go with Tom?
A. I dated a lot in between marriages. I had one boyfriend after another and at first had a hard time trusting myself to make the right choices. But after some time, I built up the courage to speak up and to make sure I didn't repeat the same mistakes I made in my first marriage. One of the keys to this was to not talk too much about my marriage with Cai. I was worried that other guys would think they could get away with just a tad less than Cai because they would know my tolerance point. Tom and I dated for eighteen months before we got engaged. We then had a year-long engagement, so I felt like I really got to know him much more than anyone else I had dated. I feel very lucky to have met Tom. A lot of it is just luck!
Q. Being 'Eurasian' myself, I know what it's like to straddle Eastern and Western cultures, do you ever worry about how Jake will deal with this when he's older?
A. Jake is amazing because he has totally embraced his two cultures. He is so proud to be Jewish and also very accepting of his Chinese culture. It seems like kids today are much more comfortable with their differences than when I was young. (I often felt like I had to keep my Judaism to myself). Jake is not shy about telling people that he's a Chinese Jew and in fact wears a goofy t-shirt with his photo under the words Chinese Jew.
Q.  Hong Kong is like a second home to me but I still get a thrill every time I go back. What was it like taking your family back to Hong Kong? What are your favourite things about Hong Kong?
A. I took Tom to Hong Kong two years ago and was worried he might not like it. We stayed in Tsim Sha Tsui, a busy tourist area, because I wanted to be near the Harbour. But he absolutely loved it and on our last day there said that he wished we could have stayed a month. We're going back in October for another short visit. I cannot wait to take my kids when they're a little older. They know all about Hong Kong, so it will be fun to see them encounter the sites in real life. My favorite things about Hong Kong include the transportation (Star Ferry, trams, Peak Tram, double-decker buses), the colonial architecture (what's left of it), and the neon signs (ditto).
Q. And finally, what's your favourite dim sum? 🙂

A. Okay, let's go straight to dessert. Going back to my childhood, my favorite has to be coconut rice balls stuffed with red bean or lotus seed paste. I don't see them on dim sum menus in Chicago much, but they were always something I would look forward to when I first started eating dim sum-gasp—thirty plus years ago!
Love's A State Of Mind Book Review: HERE