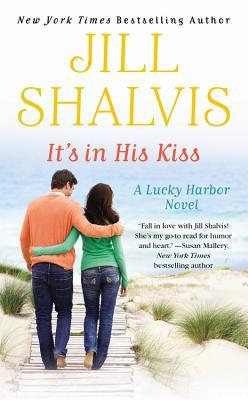 Received an ARC from Netgalley in exchange for an honest review
Given how amazing the previous trilogy in the Lucky Harbor series was, Jill Shalvis would be hard pushed to top that.  Does she succeed with It's In His Kiss?
In my opinion, no.  Don't get me wrong, fans of the series will still enjoy this book which introduces a new trio of hot guys and has memorable appearances of some familiar characters like Lucille.  So why does it fall short?
For me it just didn't contain the raw emotion that the previous books did and the all-consuming rip-roaring love story was absent.  In its place you have Becca and Sam.  Becca is trying to escape from her concert-playing past and Sam is a grumpy surfer guy who she sleeps with and then ends up working for. I just didn't engage with Becca's past and it really bothered me how her parents and brother treated her for years and yet after one conversation from Sam, her mother and father were falling over themselves to ask for her forgiveness.
Sam's father is another character I found hard to like.  Don't get me wrong the 'deadbeat Dad trying to win back his son's love far too late' can be interesting but I just didn't like the way Becca let him take advantage of her.
So overall not a 5* read but still a perfectly above-average contemporary romance from one of the masters.
Book: 4*
Cover: 4*