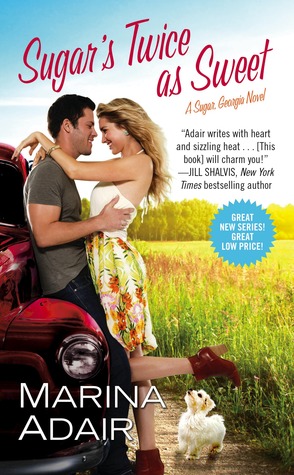 ARC received from: Netgalley
Rating: 3*
Cover: Yay
Trope: Small town Southern romance
Chemistry: Low boil
POV: 3rd Person
One-Sentence Summary: Big city girl almost gets run out of town by a mob of angry grannies
Review: Let's start by saying that I am a big Marina Adair fan and I love her St. Helena's Vineyard series. She writes banter so well and those hilarious one-liners which made her Vineyard series so great are present in the first book of her latest series.
Unfortunately, also present are some rather unsavoury characters that no matter how hard I tried were still in my bad book to the very end. Who am I talking about? The Granny mob of course! I get that every small town romance needs to have at least one interfering busybody lady of a certain age but the ones in this book were downright mean. Breaking and entering? Firing a gun? Spitting? Are you freaking kidding me? Josephina handed them with a lot more grace that I would have that's for sure! I would have had them arrested, locked up and thrown away the key. I get that there must be 'big cliché' characters in a book of this kind but there is such a thing as taking the trope too far.
Kudos to the author for giving the 'rich sporting celeb' a sport seldom seen in sport romances: golf. However, there's a reason why golf is seldom the hero's sport – I'm with Josephina when I say it's boring as hell so unfortunately that didn't win Brett any points with me. He did seem like an all-round nice guy but the way he was at everyone's beck and call made me want to grab him by the scruff of the neck and tell him to grow a backbone.
As to Josephina herself, she was an okay heroine but I didn't warm to her and I really did just want her to put everyone in their place.
The book was 2*s for me all the way until the 2/3rds mark when it crept up to 3*. However, it was all just too OTT and the characters too clichéd to make me want to return for the rest of the series.