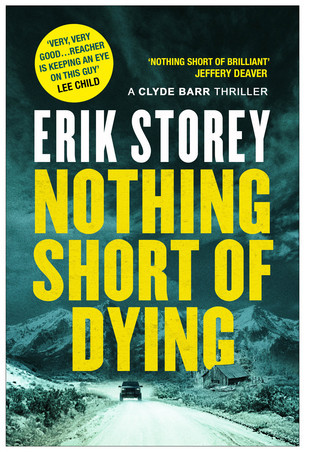 Sixteen years. That's how long Clyde Barr has been away from Colorado's thick forests, alpine deserts, and craggy peaks, running from a past filled with haunting memories. But now he's back, having roamed across three continents as a hunter, adventurer, soldier of fortune, and most recently, unjustly imprisoned convict. And once again, his past is reaching out to claim him.
By the light of a flickering campfire, Clyde received a frantic phone call for help from Jen, the youngest of his three older sisters. Then the line goes dead. Clyde doesn't know how much time he has. He doesn't know where Jen is located. He doesn't even know who has her. All he knows is that nothing short of dying will stop him from saving her.
Tagging along with Clyde on this strange, desperate, against-all-odds rescue mission is a young woman named Allie whose motivations for hurtling into harm's way are fascinatingly complex. As the duo races against the clock, it is Allie who gets Clyde to see what he has become and what he can be.
ARC received from: Goodreads
Rating: ★★★★★
One-Sentence Summary: Clyde Barr will stop at nothing to rescue his sister
Review: Very seldom do I come across a book so good that I will clear my entire day just to sit and read it in one go. This debut by Erik Storey was one of those!
This book is being sold as the "new Jack Reacher series" and it was very much in that vein, except with even more fights and gun battles (if that's even possible!). It was non-stop action from start to finish with a few brief softer moments thrown in courtesy of a love interest of sorts.
One of the key differences between Clyde Barr and Jack Reacher is the fact that Barr still has living relatives and his relationship with his three sisters is key to this book. His whole mission is to rescue his sister Jen and throughout the book there are flashbacks to Barr and Jen's childhood which helps explain why Barr is the way he is.
With Barr's sisters, his murky job history and his time in prison, there is plenty of material here for hopefully a long and successful thriller series. I can't wait to read the next one.